We've partnered with LA-based artists, Isaac Pelayo and Kim DeJesus on a series of projects for our three stores in Southern California. Inspired by the vibrancy and energy of the arts in Los Angeles, our home city, we reached out to Pelayo and DeJesus who both graciously accepted our invitation to use our spaces as a blank canvas for their ideas. Ron Herman is proud to present the result of these collaborations, which include murals, limited edition and one-of-a-kind pieces and original works by both artists at Ron Herman Melrose and original works by DeJesus at our Malibu and Brentwood stores as well.
Read on to learn more about Isaac and Kim and the projects we realized together.
Isaac Pelayo is a Los Angeles-based artist who fuses The Renaissance with Street Art. The juxtaposition in Pelayo's work emerges from his meticulously rendered brushwork of classical-style imagery and is fully realized in loose, expressionistic and careless drips from oil paint, spray paint, and oil sticks. The resulting atmosphere is dramatic — a marriage of two worlds that don't inherently belong together.
For his works at Ron Herman Pelayo explored symbols of the immigrant community he grew up in, with fond expressions of umbrellas, fruit, flowers. As Isaac stated, "There are things we witness and live with on a daily basis that we take for granted. Things we see and walk by that are so embedded in our minds … yet we don't give a second thought. As an Angeleno it isn't out of the ordinary to see the police cruise by or a lowrider blaring hip hop as hydraulics suspend its body in the air. The same thing goes for the little multicolored umbrella that can be spotted from a distance as you walk along the city's streets. It's the bell you hear on a cart filled with your favorite childhood ice creams pushed by an elder latino. The mother and her child selling oranges and flowers at the freeway exit you take everyday to get to work. Those umbrellas, carts, bouquets of roses — they're small but mighty symbols of Los Angeles and a reminder of the great presence of this particular immigrant community that gives shape to the culture of our city everyday."
Isaac's hand-painted mural is on display at a flagship at 8100 Melrose alongside original works,
ISAAC'S L.A. FIVE
Isaac on his five favorite places in Los Angeles.
1. The Beach
Any.
2. Moonshadows
Anytime.
3. Granville
Dinner and Dates.
4. The corner of Melrose & Fairfax
5. Home in my Studio
@isaacpelayo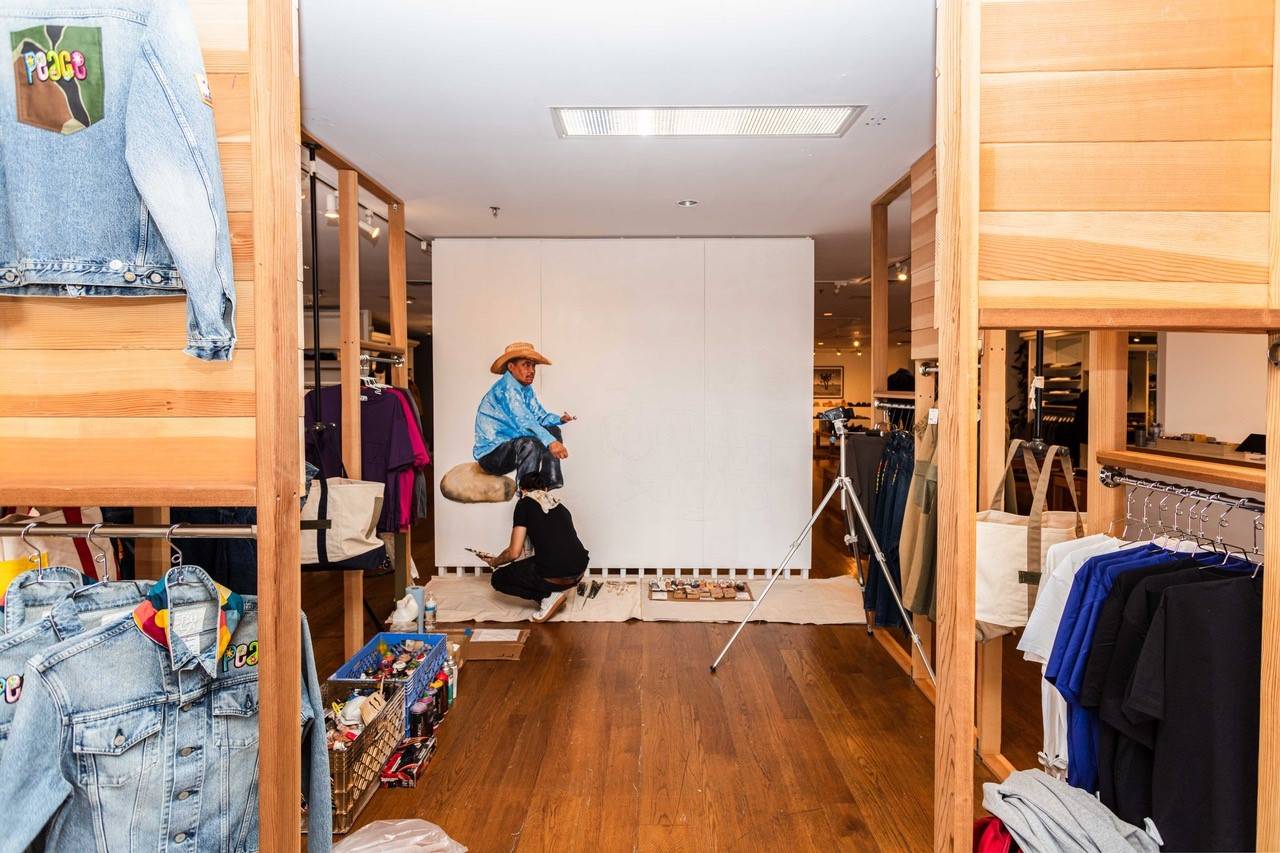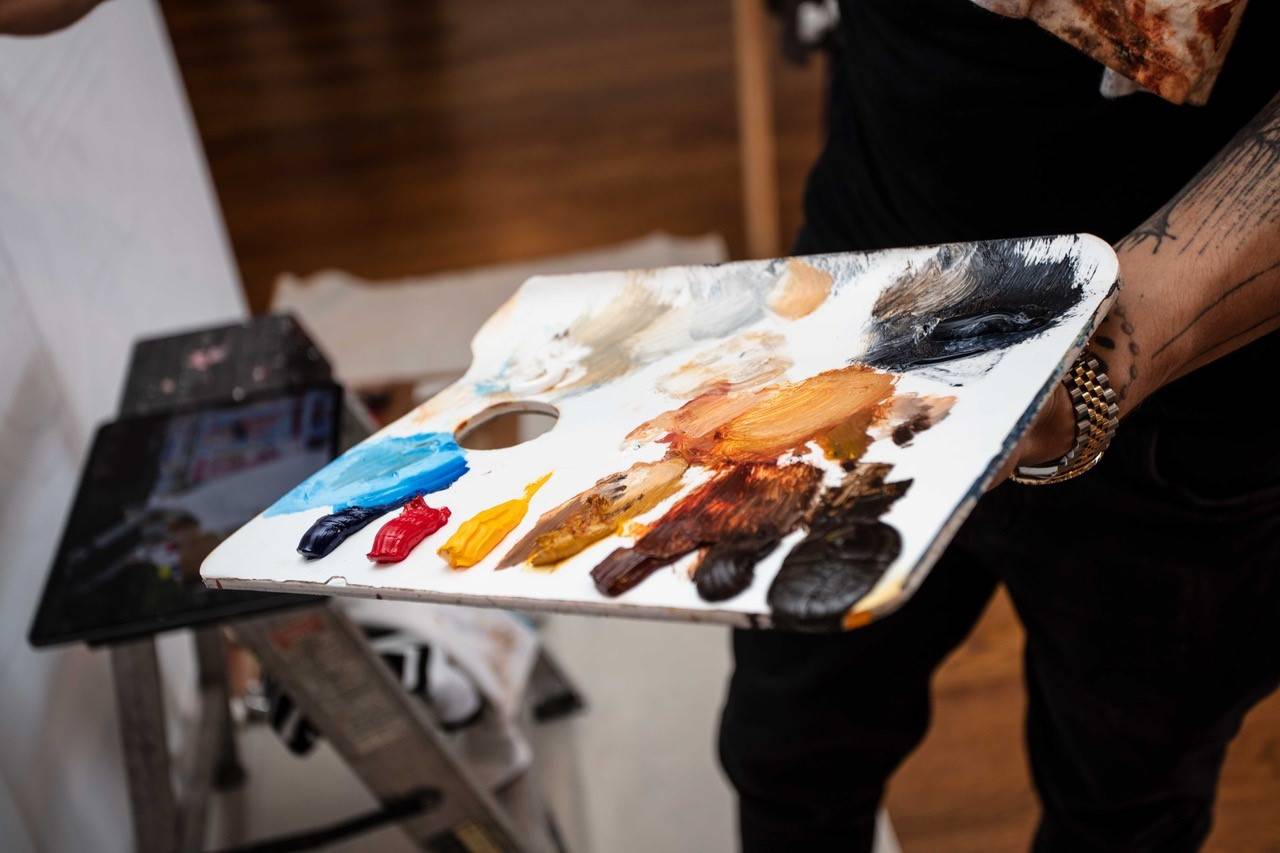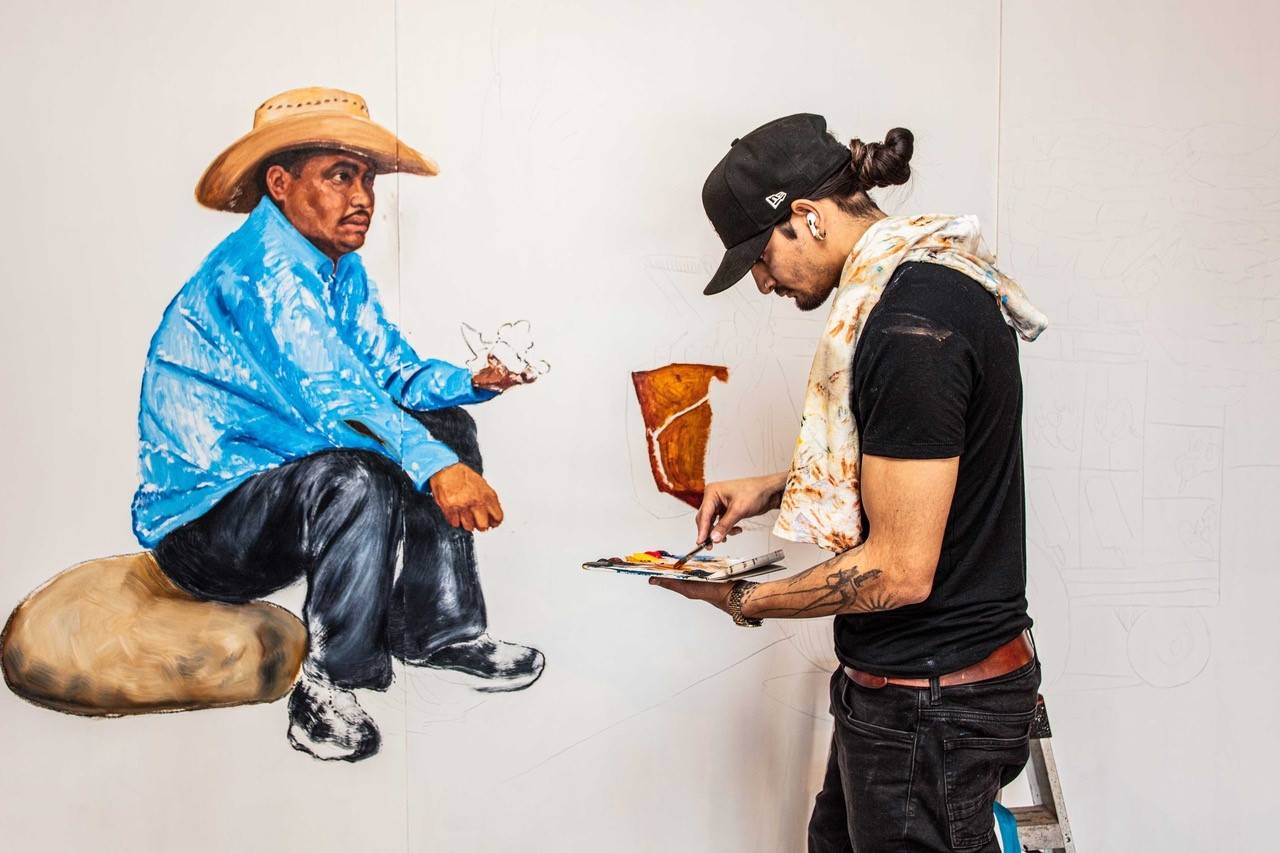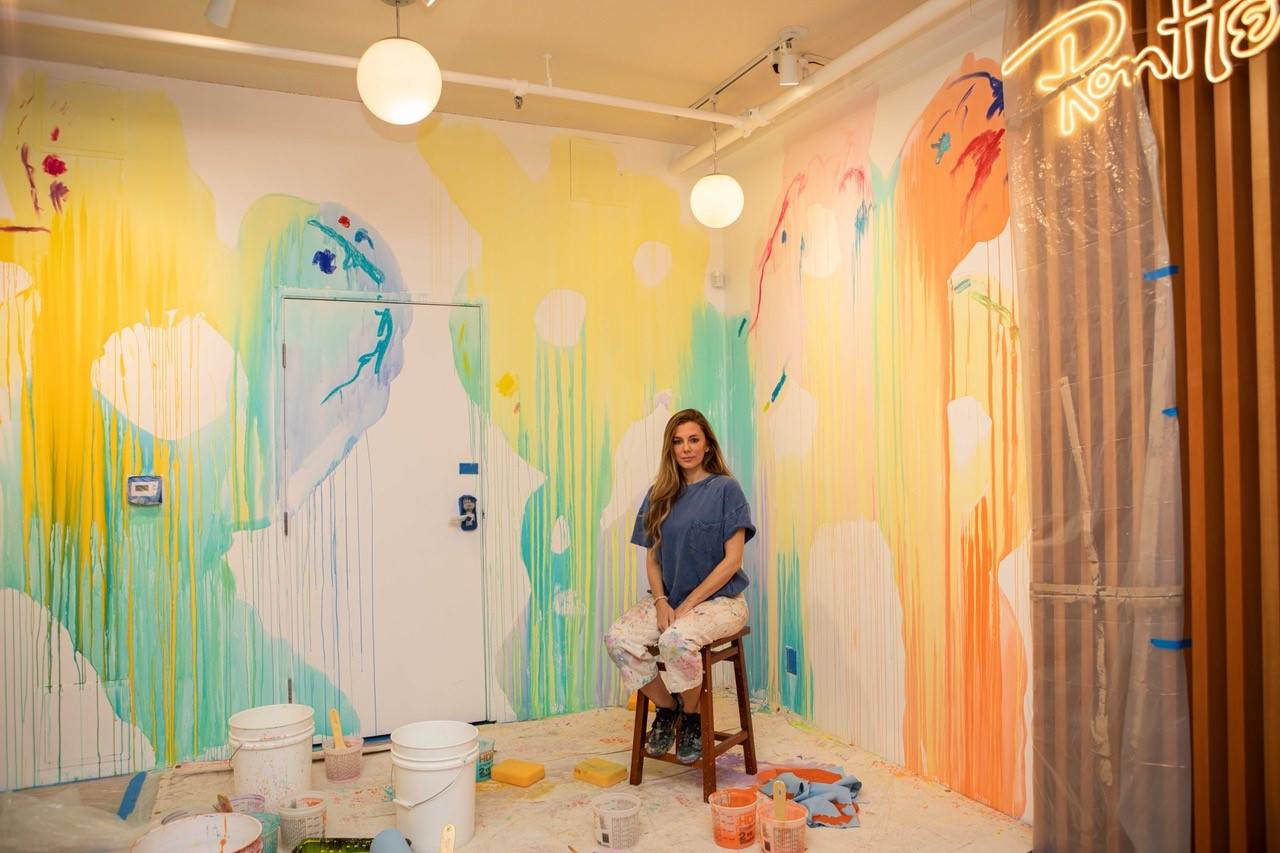 The improvisational abstractions of Kim DeJesus tap into her interest in memory – how it works and what it reveals about us and the world. She explores how marks, colors, layers, erasures and patches evoke remembrance and forgetfulness and suggest the discoveries we make and the absences in our lives. Her work is informed by a concern with the relationship between ourselves and natural processes, particularly the dichotomy we face in being simultaneously "a part of" and "apart from" the natural world.
"This tension is echoed in the way I work. The material is not entirely controlled in my studio, allowing for accidents, discoveries, and an ongoing conversation between myself, the material, and what's appearing on the canvas or paper. Frequently, I introduce marks and collage elements whose intentionality disrupts the happenstance of their fluid elements. The completed painting is a record of that process and the corrections and alterations that months of work bring about. Ultimately, I'm looking for artworks that depend on their transcendence in the tension between beauty and flaw, between grand ambition and simple means."
Alongside a mural at our flagship at 8100 Melrose and original works in all three of our Southern California locations, Kim also hand-customized a limited series of RHLA workwear jackets and overalls.
KIM'S L.A. FIVE
Kim on her five favorite places in Los Angeles.
1. Proof bakery in Atwater Village has excellent coffee and fabulous baked goods. Every day at 11, they put out a small selection of baguette sandwiches that are perfect for a snack or picnic- with lines out the door, they always sell out.
2. The Huntington Library, Art Museum, and Botanical Gardens remains a favorite spot of mine. The gardens are extraordinary. My son and I love to race in the big grassy fields. They also have one of the best permanent art collections in Los Angeles.
3. Found Oyster and Saffy's are across from each other on an unassuming street in East Hollywood, and both are gems. Found Oyster is a tiny, sexy oyster bar that doesn't take reservations, and Saffy's is a charming Middle eastern spot w a fun crowd, and the rez is hard to get!
4. My studio! Finding a sizable and safe workspace in LA was challenging, but after a two-year search, I found a dream studio last summer. I am on a tree-lined street in a progressive area near Frogtown and the space has felt expansive for my practice. While some days are easier than others in the studio, there is usually no place I would rather be.
5. The weeping willow tree near my home. It has the perfect nest for thinking. Her name is Victoria; she has superpowers and knows all my secrets.